Infants; These sweet little ones have been busy playing more and more each day. Below you see them enjoying their sense of touch and sight with these fun sensory Christmas trees Ms. Caila made for their enjoyment.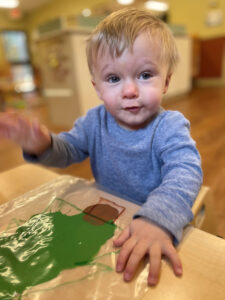 Toddler 1: Ms. Renee and Ms. Erika made super fun turkey projects. Below you will see students with their handmade hats enjoying a fun art project creating turkeys with hand paint, feathers, and support from their amazing teachers.  Their class is getting Christmas set up and decorated, so stay tuned for the next E-news some awesome holiday photos as well!  Always work cycle brings new challenges and builds children's confidence and motor skills.
Toddler 2: Ms. Jessica always has creative projects for her classroom. These little scholars enjoyed creating their turkey hats and making handcrafted Thanksgiving-themed art. They also began setting up holiday decorations with a fun Christmas tree in-class project and working with sorting ornaments.